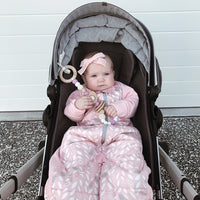 2-in-1 Pram Teething Toy | Love Heart
Description
Our 2-in-1 teething rattle toy solves your need for a toy on the pram, in the car and a teether for your baby. How versatile is that?
Designed to cater to your baby's needs for entertainment on the go, our 2-in-1 pram toys are great for helping little ones develop their motor skills. They will learn to grasp and shake the toy and will be delighted to hear the toy rattle when played with. Lots of sensory exploration will be had with the array of textures we have incorporated into this design; buttery soft silicone, wood and textured crochet surfaces.
We know babies can't help putting their toys in their mouth and it's a developmental thing! Rest assured that our 2-in-1 pram toys perfectly safe to chew on.
All our Lluie teething toy designs are proudly safety tested and certified by an accredited independent testing laboratory to the Australian and New Zealand Safety Standards AS/NZS ISO 8124.
HOW TO USE:
In the pram: Secure the toy to your pram by the wooden ring across your pram's handlebar or ribbons provided.
In the car: Secure the toy via the ribbons provided to the grab bar above the window next to your baby's car seat. It will hang nicely just above your baby for lots of entertainment on the road.
SPECIFICATIONS:
100% non-toxic food grade silicone 

Natural beechwood

Dimensions: 

30cm in length excluding the ribbons

Packaged in a reusable cotton drawstring bag
Looking also for a handheld teether for your baby's teething needs? Check out our beautiful and practical range of teethers & rattles.
FAQS
1. How do I clean this toy?
As this toy is made from beechwood and silicone that have antibacterial properties, there is no need to sterilise it. Simply spot clean with a baby wipe or a clean damp cloth.
2. What age is this good for?
Great for babies from 0+ months to use straight away on your pram or in your car. 
3. Is this safe for my baby?
Please be assured that our designs have been safety certified and approved for use from 0 months onwards. We send our teething toy designs to an accredited testing laboratory for testing and certification to the Australian and New Zealand Safety Standards AS/NZS ISO 8124.
For more info on our safe manufacturing processes, click here.
SHIPPING
AUSTRALIA: Free standard shipping for orders over $79. $8.95 flat rate standard shipping, $12.95 flat rate express shipping.
NEW ZEALAND: Shipping calculated at checkout and range between $15 - $35.
SINGAPORE: Shipping rates are calculated at checkout and range between $20 - $50.
USA & CANADA: Shipping rates are calculated at checkout and range between $25 - $55.
REST OF THE WORLD: Shipping rates are calculated at checkout and range between $30 - $60.
For more shipping info, click here.
RETURNS
Our goal is to offer you a high quality selection of childhood treasures to enjoy with your little ones. As such, we want to ensure that you are 100% satisfied with your purchase.
If you have decided prior to opening the packaging of the product that it is no longer what you are after, kindly contact us in email writing within 30 days of receipt of your order to arrange for a return or exchange.
The following products and service are excluded from the 30 Day Return Policy:
Orders with the added Personalisation Service
Teethers & Rattles Range
Pram & Play Gym Toys Range
Dummy Chains and Dummies
Clearance and sale items are excluded from the 30 Day Return Policy.
For full returns terms and conditions please click here.
An all-rounder!
There's just so much to love with this toy with so many different uses! A teething toy, pram entertainer, car ride accompaniment, play gym addition, and the list goes on. Quality exceeds any of the other toys I've seen so far on the market! Time to add other colours to our collection 😍
Cutest (and the most versatile) teething toy ever!
The quality and versatility of this teether is what it makes a must have baby items. We used it as a pram toy when the baby was younger and then as a teething ring when she was teething. Our little one (a toddler now!) still loves it; it is a perfect accompaniment on those long car journeys where she can explore various textures and also soothe her gums.
An year old, but it still looks brand new- that's how good the quality is!