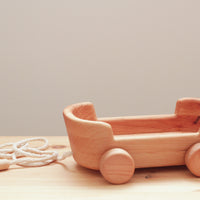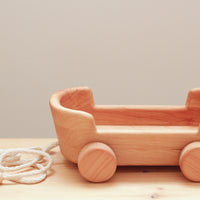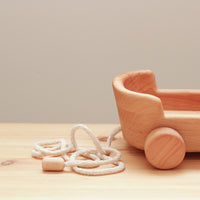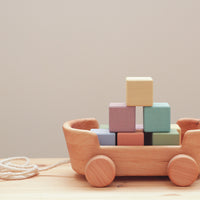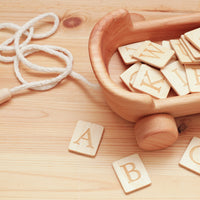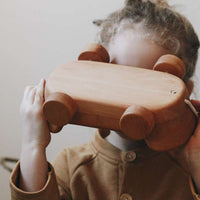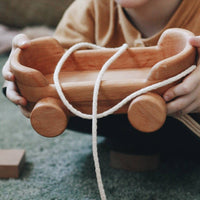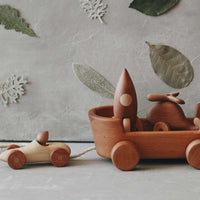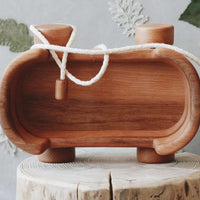 Description
Children adore toys on wheels and this gorgeous pull-along wooden cart will be a delightful addition into your playroom.
Created for lots of make belief play to abound. Is dolly sick? Pop her on the cart and take her to the doctor. Ran out of eggs for an afternoon tea party? Head to the market to stock up on pantry items for your child's wooden kitchen.
Conjure stories, joyous open ended play and let your children's creative nature take over. The possibilities are endless!
The toy can be rolled along the street in dry weather. You can wipe it with a slightly damp cloth to remove the dirt, and then wipe it with a cloth soaked with food grade linseed oil and leave it to set overnight. In the morning the toy is ready for a new trips. Should the dirt be strong or if there are scratches, simply use fine sand paper and sand the necessary places manually. Seal with with linseed oil and allow oil to soak and dry again.
Key Features
develops creativity and imagination
educational value
encourages social interaction
connects with nature
environmentally safe
never go out of style
heirloom quality
Specifications
Made from alder wood and finished with linseed oil and beeswax
Dimensions: Length 23.5cm, Width 11.5cm, Height 8cm
.....
This beautifully toy is skilfully crafted in Russia in a small family workshop. It is operated by a small family in Ryazan, Russia. The natural beauty of wood is harnessed in the creation of their wooden toys that provides a catalyst through which imagination and creativity can abound. All materials used in their creations are locally and sustainably sourced.
......
Recommended Age: 3+ years
Please note that this is not a teething toy. Adult supervision is recommended.
Due to the natural uniqueness of wood, please allow for variances in wood grain and shade from the one pictured.
SHIPPING
AUSTRALIA: Free standard shipping for orders over $79. $8.95 flat rate standard shipping, $12.95 flat rate express shipping.
NEW ZEALAND: Shipping calculated at checkout and range between $15 - $35.
SINGAPORE: Shipping rates are calculated at checkout and range between $20 - $50.
USA & CANADA: Shipping rates are calculated at checkout and range between $25 - $55.
REST OF THE WORLD: Shipping rates are calculated at checkout and range between $30 - $60.
For more shipping info, click here.
RETURNS
Our goal is to offer you a high quality selection of childhood treasures to enjoy with your little ones. As such, we want to ensure that you are 100% satisfied with your purchase.
If you have decided prior to opening the packaging of the product that it is no longer what you are after, kindly contact us in email writing within 30 days of receipt of your order to arrange for a return or exchange.
The following products and service are excluded from the 30 Day Return Policy:
Orders with the added Personalisation Service
Teethers & Rattles Range
Pram & Play Gym Toys Range
Dummy Chains and Dummies
Clearance and sale items are excluded from the 30 Day Return Policy.
For full returns terms and conditions please click here.
Gift for newborn
Very highly recommended, Charmaine was so wonderful , the products are absolutely divine, bespoke and handmade. The service was amazing. Can't thank you enough for the beautiful gift for my new nephew. So happy to purchase such beautiful items from a small business with such care.
A very happy customer 🤍🤍