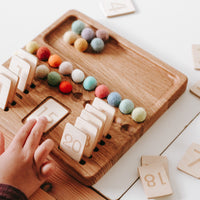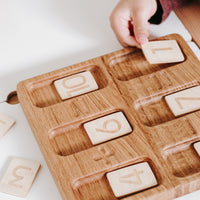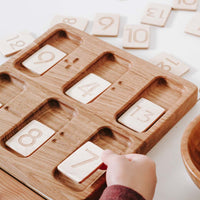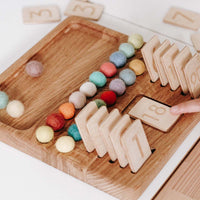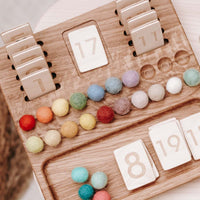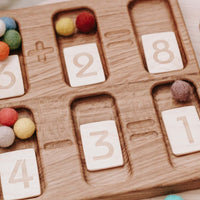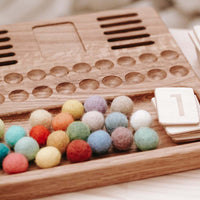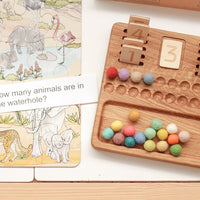 Reversible Number Board | 1 - 20
Description
Looking for a way to make home based learning easier?
Searching for long lasting resources to teach number recognition, counting and maths sums in a fun and interesting way?
We've got this lifesaver for you mama. 
Let's make learning maths fun and enjoyable with our Number Board | 1 - 20.
This number board has got your child covered from numbers 1 - 20 with a focus on addition and subtraction.

So versatile in helping you teach your child the different maths concepts in a variety of simple and easy to understand approaches.
Use the felt balls provided in the holes on the board to help them visualise the amount. 
Here are some ideas on how you can use this board...
1. Learn to Count and Recognise Numbers
Place a number card in the card slot located at the top of the board and fill the tray below with the felt balls. Ask your child to fill the holes in the tray with as many felt balls as the number on the card shows. This is so good for teaching number recognition and counting.
2. Learn Addition & Subtraction
Create simple addition or subtraction equations for your little one to solve or have them create their own equations.
3. Which is more / which is less?
Use the number card columns on the left and right and fill them with the number cards. Your child's task is to go through each pair and place the card with the larger/smaller number in the middle.
E.g. 10 vs 19 - which is more? Child places 19 in the middle slot.
E.g. 20 vs 3 - which is less? Child places 3 in the middle slot.
4. Use in conjunction with our Puzzles
Use this board as a tool answer a wide array of questions with our puzzles as a stimulus. You can use any printed media for this activity as well.
Use the felt balls to help your child visualise the number and select the corresponding number card to place in the slot
E.g. Using our Savannah Puzzle. How many animals are there in the waterhole?
E.g. Using your toys. How many toys are there in this basket?
5. Solve Simple Problem Sums
Use the number cards on the + and - side of the board to solve the problem sums.
E.g. "I have 5 grapes, I gave you 2. How many grapes do I have left?"
Whilst this Number Board feature Number Cards of up to 20, you can always put two single digit cards together to form double digit numbers that you require (refer to the last image shown as an example).
What's included?

1 reversible Number Board (20cm x 20cm)
2 sets of double-sided number cards (1-20) - 20 cards in total
20 handmade felt balls
Pair with our puzzles to create fun counting and maths learning activities.
Recommended age: 3+ years
This beautiful number board is handcrafted in Ukraine from Oak Wood which is known for its durability and natural beauty. Every piece is unique and presents wonderfully as a family heirloom educational resource to pass down the generations.
SHIPPING
AUSTRALIA: Free standard shipping for orders over $79. $8.95 flat rate standard shipping, $12.95 flat rate express shipping.
NEW ZEALAND: Shipping calculated at checkout and range between $15 - $35.
SINGAPORE: Shipping rates are calculated at checkout and range between $20 - $50.
USA & CANADA: Shipping rates are calculated at checkout and range between $25 - $55.
REST OF THE WORLD: Shipping rates are calculated at checkout and range between $30 - $60.
For more shipping info, click here.
RETURNS
Our goal is to offer you a high quality selection of childhood treasures to enjoy with your little ones. As such, we want to ensure that you are 100% satisfied with your purchase.
If you have decided prior to opening the packaging of the product that it is no longer what you are after, kindly contact us in email writing within 30 days of receipt of your order to arrange for a return or exchange.
The following products and service are excluded from the 30 Day Return Policy:
Orders with the added Personalisation Service
Teethers & Rattles Range
Pram & Play Gym Toys Range
Dummy Chains and Dummies
Clearance and sale items are excluded from the 30 Day Return Policy.
For full returns terms and conditions please click here.
Great for little learners
As a mum to a new prepie especially during lockdown this definitely makes life easier and less stressful, I want to be able to show my daughter to visualise what she is adding and subtracting as this is all new to her and this definitely will help in that process. The fact that the board is also double sided is amazing and helps with different styles of learning. Highly Recommend- and the quality is absolutely amazing, so impressed!