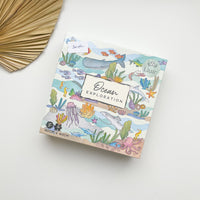 *FACTORY SAMPLE* Ocean Exploration Jigsaw Puzzle
Description
Factory sample. Expect slight colour variation. 
TERMS & CONDITIONS - kindly note that sample / seconds sales are final. They may not be returned or exchanged.
---
Imagine a time when little children play quietly and are fully immersed in the activity...
...a state where time feels like it has slowed down
   …senses heightened     
       ...where hands and mind synchronise into a beautiful momentum
This process is called 'flow'. And puzzles my dear mama, help create that magical moment for your little one.
This beautiful moment creates all sorts of positive feelings. It calms your child after a big day or when you and your child just really need some mindful time alone.
Our beautifully illustrated puzzles help to captivate and deeply engage little minds.
As your child works through the puzzle in that wonderful non-distracted zone, you would be assured to know that your child is learning about the flora and fauna around the world through play.
Wondering how you can step in to connect with your child through play? I've got you covered. I've put on my teacher thinking cap and included a list of play based learning activities to guide you, all included on the box it comes in. You will also find a list of the names of the plants and animals depicted in the Original Art illustration for your easy reference.
36 piece puzzle

40 x 40cm completed size

Magnetic close box with a drawstring bag to store the puzzle pieces

Recommended Age: 3+ years

Made from recycled paper
Collect our other puzzle themes here: Australian, Jungle, and Savannah.
If you'd like to find out more about the benefits of puzzles, click here.
SHIPPING
AUSTRALIA: Free standard shipping for orders over $79. $8.95 flat rate standard shipping, $12.95 flat rate express shipping.
NEW ZEALAND: Shipping calculated at checkout and range between $15 - $35.
SINGAPORE: Shipping rates are calculated at checkout and range between $20 - $50.
USA & CANADA: Shipping rates are calculated at checkout and range between $25 - $55.
REST OF THE WORLD: Shipping rates are calculated at checkout and range between $30 - $60.
For more shipping info, click here.
RETURNS
Our goal is to offer you a high quality selection of childhood treasures to enjoy with your little ones. As such, we want to ensure that you are 100% satisfied with your purchase.
If you have decided prior to opening the packaging of the product that it is no longer what you are after, kindly contact us in email writing within 30 days of receipt of your order to arrange for a return or exchange.
The following products and service are excluded from the 30 Day Return Policy:
Orders with the added Personalisation Service
Teethers & Rattles Range
Pram & Play Gym Toys Range
Dummy Chains and Dummies
Clearance and sale items are excluded from the 30 Day Return Policy.
For full returns terms and conditions please click here.