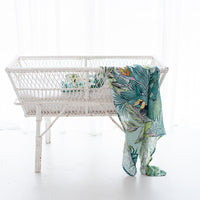 Baby Muslin Swaddle Wrap | Jungle
Description
Created for all Jungle loving mamas! Our Jungle Swaddle features a beautiful hand-illustrated design created exclusively for Lluie by local Australian Artist Victoria McGrane.

The beautiful artwork conceptualises our vision to bring you more than a swaddle. Your baby can learn about the fascinating animals that live in the tropical Jungle from this vibrant illustration. So good for play based learning after your baby outgrows the swaddling stage. This will be a nursery piece that you and your baby will treasure for years to come and pass on to the next sibling or loved one.
Generously large in size, this breathable muslin swaddle is super versatile in use as a swaddle, lightweight blanket, change mat cover, pram cover and picnic mat. 
Made from a luscious blend of bamboo and organic cotton, this fabric will be gentle on your baby's delicate skin. One of the softest you'd ever feel!
SPECIFICATIONS
120CM X 120CM

Digitally printed on a blend of 70% bamboo + 30% organic cotton

Machine washable
Collect our other Original Art Baby Wraps: the Australian, African Savannah and Ocean.
SHIPPING
AUSTRALIA: Free standard shipping for orders over $79. $8.95 flat rate standard shipping, $12.95 flat rate express shipping.
NEW ZEALAND: Shipping calculated at checkout and range between $15 - $35.
SINGAPORE: Shipping rates are calculated at checkout and range between $20 - $50.
USA & CANADA: Shipping rates are calculated at checkout and range between $25 - $55.
REST OF THE WORLD: Shipping rates are calculated at checkout and range between $30 - $60.
For more shipping info, click here.
RETURNS
Our goal is to offer you a high quality selection of childhood treasures to enjoy with your little ones. As such, we want to ensure that you are 100% satisfied with your purchase.
If you have decided prior to opening the packaging of the product that it is no longer what you are after, kindly contact us in email writing within 30 days of receipt of your order to arrange for a return or exchange.
The following products and service are excluded from the 30 Day Return Policy:
Orders with the added Personalisation Service
Teethers & Rattles Range
Pram & Play Gym Toys Range
Dummy Chains and Dummies
Clearance and sale items are excluded from the 30 Day Return Policy.
For full returns terms and conditions please click here.
The most beautiful wrap
I saw a lady in the warehouse (newzealand) with this jungle wrap over her pram and I had to go and ask where she got it from, the most beautiful wrap I've ever seen and feels so lovely. I bought 2 jungle wraps about an hour later and I love them both so much! Also got a Savanah one last minute which I also really love! Highly recommend even as a blanket or mat to lay on
Stunning
Absolutely love the Junge wrap swaddle, it's just stunning. A beautiful design and so vibrant 👌🏻
Absolutely Beautiful
I received my gorgeous jungle Muslin wrap today and was beyond amazed at how beautiful and vibrant it was. The colours are stunning and it is the most softest lightweight wrap perfect for the warmer months. I am very happy with my purchase and will be back to purchase more ASAP ..thank you Lluie! Xx
A Swaddle I'd Like if I was a newborn
The fact that this was drawn and designed by local artists, but more importantly, it look so cute! The fact it was made with bamboo (apparently cooling - as it was going overseas to a humid country) & organic cotton, was an easy choice to make.
Baby Muslin Swaddle Wrap | Jungle