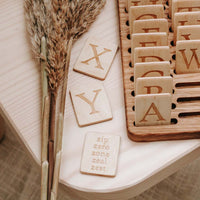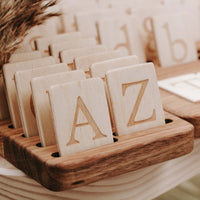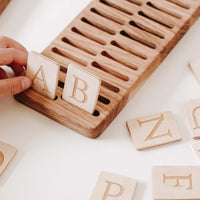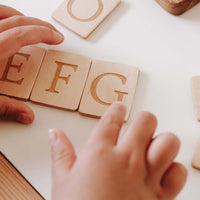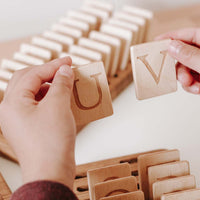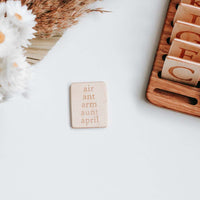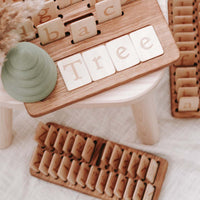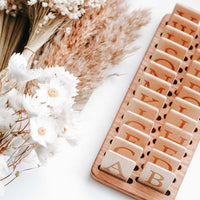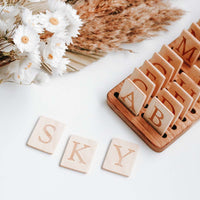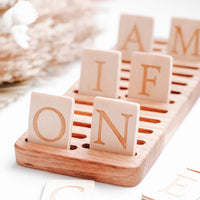 Alphabet Cards with Holder | Uppercase Letters
Description
Looking for a way to make home based learning easier?
Searching for long lasting resources to teach alphabet/word recognition and spelling in a fun and interesting way?
Learning English is so much fun with our Alphabet Cards.
Literacy skills are so important and it's never too early to start working on those skills. Watch your little one flourish with all the extra support you can provide at home.
Wondering where to start?
We've got your back mama. 
Each card contains 5 words on the reverse side for your child to refer to and learn to read and spell. 
Here are some ideas on how you can use this board...
1. Alphabet Recognition
Sing along to ABC and place each of the 26 letters in sequence into the holder tray from A to Z.
In a separate activity, use a timer to make it fun and challenging at the same time.

 2. Reading
Use the words found on the reverse side of each letter card and ask your child to read them aloud.
3. Spelling
Form two letter words on the holder tray itself.
E.g. On, in, at, if, am, an, be...
4. Treasure Hunt
Write down a word with non repeating letters and ask your child to find the letters that make up that word, placing the letters in the tray.
Make this even more interesting by setting it up like a treasure hunt and hide the letters around the play area.
What's included?

1 set of Uppercase Alphabet Cards - 26 cards in total
1 Holding Tray
Pair with our Large Alphabet Board or Reversible Alphabet Board for more language learning opportunities.

Recommended age: 3+ years
This beautiful number board is handcrafted in Ukraine from Oak Wood which is known for its durability and natural beauty. Every piece is unique and presents wonderfully as a family heirloom educational resource to pass down the generations.
SHIPPING
AUSTRALIA: Free standard shipping for orders over $79. $8.95 flat rate standard shipping, $12.95 flat rate express shipping.
NEW ZEALAND: Shipping calculated at checkout and range between $15 - $35.
SINGAPORE: Shipping rates are calculated at checkout and range between $20 - $50.
USA & CANADA: Shipping rates are calculated at checkout and range between $25 - $55.
REST OF THE WORLD: Shipping rates are calculated at checkout and range between $30 - $60.
For more shipping info, click here.
RETURNS
Our goal is to offer you a high quality selection of childhood treasures to enjoy with your little ones. As such, we want to ensure that you are 100% satisfied with your purchase.
If you have decided prior to opening the packaging of the product that it is no longer what you are after, kindly contact us in email writing within 30 days of receipt of your order to arrange for a return or exchange.
The following products and service are excluded from the 30 Day Return Policy:
Orders with the added Personalisation Service
Teethers & Rattles Range
Pram & Play Gym Toys Range
Dummy Chains and Dummies
Clearance and sale items are excluded from the 30 Day Return Policy.
For full returns terms and conditions please click here.
Excellent & thoughtful gift option.
I bought the Alphabet cards as a present for a 2 year old boy. They were beautifully packed and our friend loved them! The cards are perfect to set up as a Montessori activity, the quality and finishes are excellent, highly recommended!